Media- and press policy
Find your unique content at Indoor Skydive Roosendaal!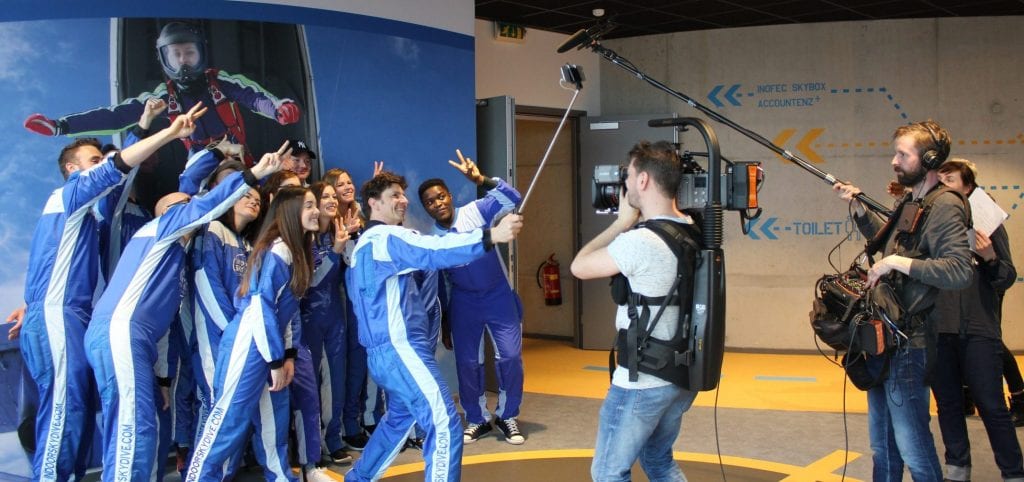 I got to have a few more lessons and a lot of coaching, but it was a massive experience!
---
Indoor Skydive Roosendaal is a great location for (media) recordings throughout the year. Indoor Skydive Roosendaal wind tunnel lends itself to making beautiful and impressive content. With a meeting room, teamroom, catering and of course the wind tunnel, it will be guaranteed to have a fresh wind blowing through the recordings!
Are you interested in getting along in the very first wind tunnel of the Benelux? We appreciate your interest! From years of experience we know that making good content costs time and preparation. Making professional footage is therefore only permitted with written permission. For this, you can contact our marketing and communications department at: marketing@sis-leisuregroup.nl. We strive to answer your request as soon as possible.
During your arrival at Indoor Skydive Roosendaal, an employee will provide you with all the comforts. Although the property is provided with good routing and signing, it is nice to know where to find everything and possibly mount something.
Bloggers and vloggers
Because Indoor Skydive Roosendaal likes to respond to trends and developments, we are very open to blog and vlog requests. In fact, we appreciate being written and told about our unique activity. You may be asked to adhere to a number of rules of conduct:
The recordings must not barely obstruct the guests or employees.
Do not film behind the scenes, unless told otherwise.
Unfortunately, in the wind tunnel, it is not allowed to shoot without a written permission, even with an action camera like a GoPro camera.
If you have any questions, please contact our marketing and communications department via our telephone number +31 (0) 85 902 0606 or mail to marketing@sis-leisuregroup.nl.
Press questions and speeches
For all your questions, contact marketing@sis-leisuregroup.nl or call +31 (0) 85 902 0606 (office hours). You can request telephone contact with our marketing and communication team staff.
Publications and copyright
In order to confirm the correctness, we are invited to show the written publications and live-recording recordings. Logos and images are copyrighted and only to be used with written permission.