AFF training
The basics of every skydiver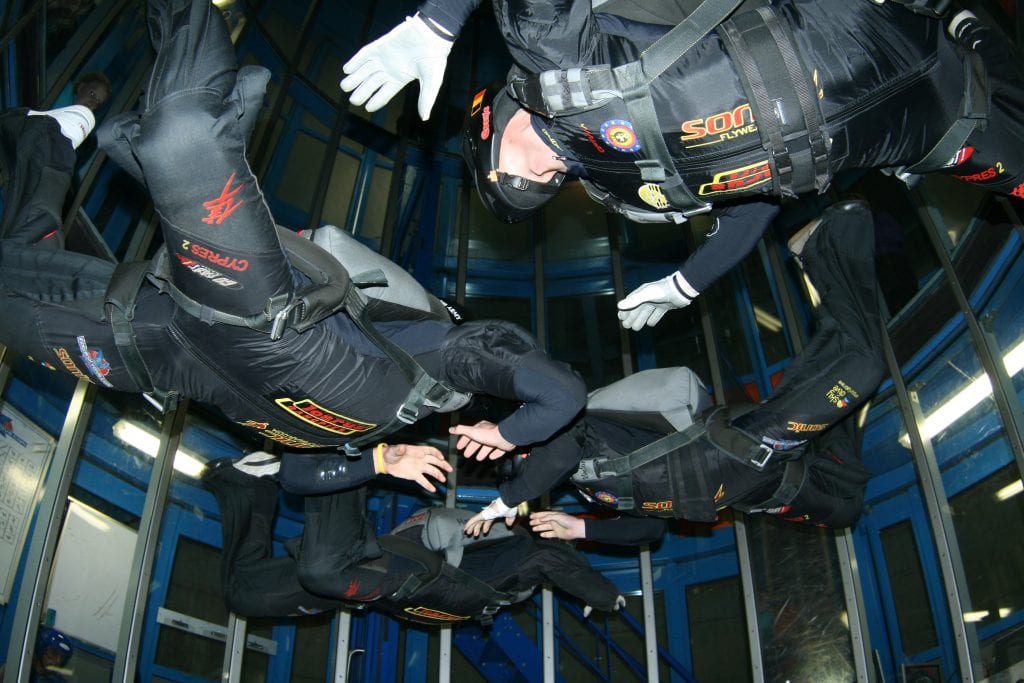 Preparation
Start well prepared for your AFF certification!
AFF Trainingspackages
From basics to AFF ready.
Experienced instructors
For the right tips and tricks!
Do you want to get your AFF certificate? Train indoors in the perfect environment at Indoor Skydive Roosendaal. In preparation for the AFF course we offer two training packages: AFF Training Basic and AFF Training Ready.
These Special AFF training packages are compiled by recognized AFF instructors and experienced instructors of Indoor Skydive Roosendaal. The goal is to ensure that you train all free fall disciplines of the AFF course during our AFF training. During this training you will learn the heaviest and most important part of AFF training; How to move during free fall! With the coaching of our instructors, you get ready for the certification. This way you can get your letter faster!
With the AFF training of Indoor Skydive Roosendaal you are not only well prepared, but you also save on a number of jumps outdoor! Practicing the tunnel is therefore not only safe, but also beneficial!
AFF Training BASIC (€ 99.50)
✔ Briefing of the training based on the AFF
✔ 5 1.5-minute sessions with extensive instructions by one of our instructors
✔ Exercise the main signals during the AFF
✔ Base position and movements as with the AFF
✔ Debriefing with all the attention to your AFF
AFF training READY (€ 199,00)
✔ Detailed briefing of the training based on the AFF
✔ Use a Dummy harness for as realistic experience as possible
✔ 10 1.5 minute sessions with extensive instructions by one of our instructors
✔ Exercise all the signals from the AFF
✔ Handle all positions and movements as with the AFF
✔ Practice opening the parachute
✔ Detailed debriefing with all the attention points for your AFF
How is it going to work?
We start giving you the right equipment. With the AFF-Ready package you also get your Dummy harness. Then you will find a briefing in which you will discuss the content of the training with your instructor. Once the briefing is completed, the real work begins, the indoor skydiving! With your instructor, you will practice the signals, positions and movements that you should be able to achieve your AFF certificate. After the training, the debriefing will follow with attention points and tips for your AFF training. Images of the AFF training Do you want the images of the training? Which can! For € 15,00 you will receive the images on an Indoor Skydive Roosendaal USB. When you bring your own USB, you only pay € 7.50 for all images. Then you can show friends, family and your AFF instructor that you control the free fall.