Coaching
For everyone and each level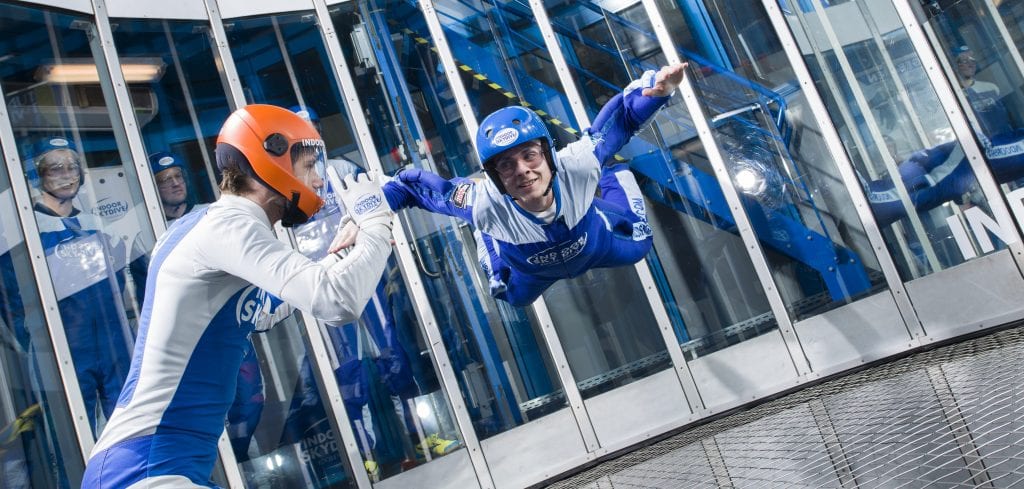 1-to-1 indoor skydiving
Coaching by experienced instructors
Each level
From beginners to experienced skydivers
Multiple disciplines
Freefly, head up or formation skydiving
Which type of coaching suits you?
---
Do you want to improve your indoor skydiving skills? Then we advise to take coaching! The indoor skydiving sport is growing enormously, and this is partly because of the enthusiastic indoor skydivers who learn to fly better and better. Indoor Skydive Roosendaal grows with the sport with three talented home teams: ISR Dynamic Dutchies, Project 20+ and ISR FireFlash. These teams have a lot of knowledge of the sport, constantly challenge themselves and work hard to achieve their goals. Good news: they are ready to give you coaching!
FF coaching
Indoor Skydive Roosendaal offers you various training options: learn from free flying to formations. Have you ever seen our instructors Rick and Joey fly a fiery demo in our tunnel? Then you know how the freefly discipline looks at an advanced level. After a lot of training hours and participation in various competitions, they are expert in the field of freefly. They are eager to teach you the freefly discipline! What are you waiting for?
FS coaching
In addition, you can also learn in our tunnel to fly in formations. You've probably have seen it: movies in which skydivers jump out of an airplane at once and make figures in the sky. This discipline you can practice indoors as well. The conditions in the tunnel are perfect for coaching flight formation skydiving. Our coaches want to teach you this discipline! We present your home teams below!