Frequent flyers
From second timers to pro's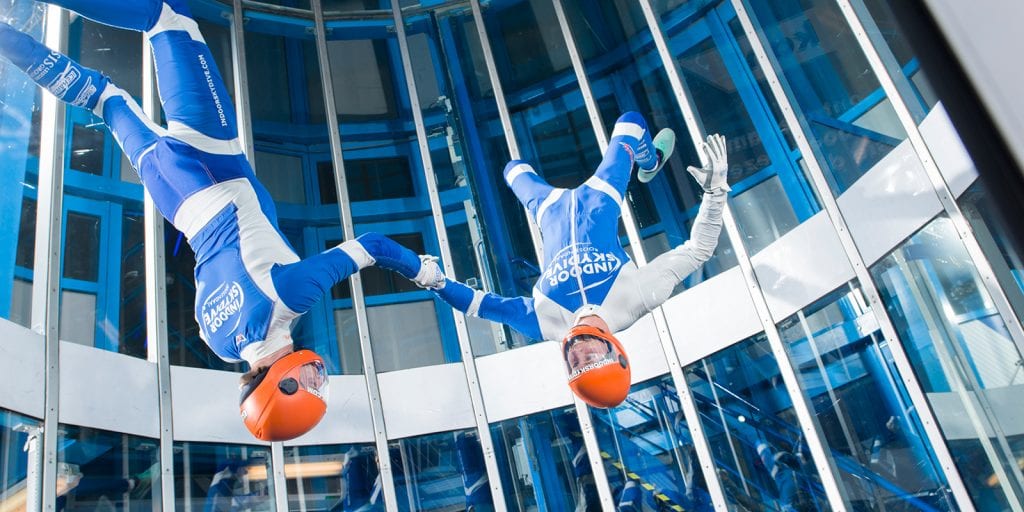 I got to have a few more lessons and a lot of coaching, but it was a massive experience!
Yes! You've experienced indoor skydiving and want to get more. Cool, you're official one of our frequent flyers! The adrenalinekick is addictive and you want to get more. What's next? Indoor Skydive Roosendaal has special options for beginners or fanatics. Get Your Wings®, Share the air, visit our events, follow one of our trainings or get coaching by the best coaches of the Benelux. Also, we've got special prices for frequent flyers. Come fly with us!
Ideal for after your first Indoor Skydive experience
Various packages for your next step
Unique trainings and events
Fun and educational for all levels
More than 10 years of experience
By the International Educational standards (T.I)
Improve your indoor skydive skills
---
Fly like a pro?
Indoor Skydive Roosendaal is the perfect training facility to learn new skills or to improve your skydive skills.
Wind tunnel training
Indoor Skydive Roosendaal's wind tunnel is the place for training, for all types of disciplines. Thanks to the carefully-controlled airflow (with variable adjustment), you can fly through the tunnel at a speed of  275 kph (170 mph) in every dimension. The wind tunnel's diameter of 14 feet (4.27 metres) is more than enough to comfortably train a FS-4 team.
Why wind tunnel training at Indoor Skydive Roosendaal?
Indoor Skydive Roosendaal offers skydivers a unique place to train. Nowhere else in the Benelux will you find a wind tunnel like the one in Roosendaal. Equipped with all the facilities, like a teamroom, creeper area and a debrief monitor in the wind tunnel.
Naturally our instructors can supervise you at every desired level during training, to improve your skills.
Would you like to learn more about specific personal training in the wind tunnel, or courses? Then get in touch with us.
Van second timers tot ervaren indoor skydivers
---