FAQ
Find the answer for your question here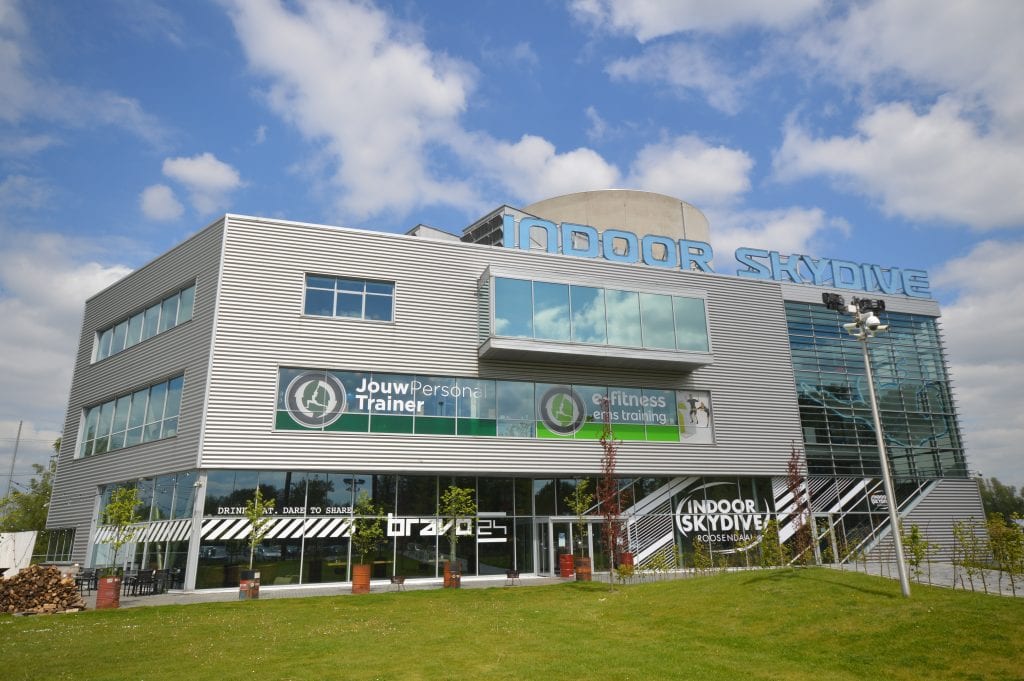 ---
Here you will find all the answers to the most frequently asked questions on indoor skydiving at Indoor Skydive Roosendaal.
Q: If I come to skydive indoors, how exactly does it work?
A:  First you book a time and date you want to come in advance. On arrival you check-in at our check-in counter on the first floor, and here you will check in. You need to complete and sign the sign in process. Then you go to the second floor. Here you will receive your indoor skydiving equipment. You can change in our changing rooms. You can secure all your valuables in the lockers which are provided, free of charge. Once your group has changed into your clothing and equipment, you will be given extensive instructions. After these instructions you will enter the wind tunnel and take turns at experiencing skydiving session. On conclusion you will receive your indoor skydiving diploma and if you order one, your personal indoor skydiving DVD.
Q: Do I have to jump from a great height?
A: No, from the platform you step into the wind tunnel's flying room through a door opening. You don't have to jump at any time.
Q: How far in advance must I be ready for my flight?
A: If you have made a booking our Reception staff will tell you the arrival time. You must report to our check-in counter at this indicated time. You don't have to be present before this indicated time.
Q: If there's a power failure, will I fall down?
A: No, the airspeed will decrease gradually should there be a power failure, so you will come down slowly.
Q: Is it dangerous?
A: No, before entering the tunnel you are given brief instruction through a video tutorial and personal posture training. The instructor will also supervise you constantly while flying.
Q: May I just go into the wind tunnel alone for recreation?
A: No, you will be supervised by a professional tunnel instructor as you go into the tunnel one by one. You will need to accumulate a great deal of tunnel time if you want to be able to fly completely unattended by a tunnel instructor. Our tunnel course is the perfect basis for this. In all instances the tunnel instructor makes the final decisions.
Q: How many people can enter the tunnel?
A: Users always enter the tunnel one at a time with a tunnel instructor. Up to eight professionals in a team may enter the wind tunnel in groups of up to 8.
Q: May we come to Indoor Skydive Roosendaal with a group or from a company?
A: Yes, we have a variety of arrangements for groups or company outings. We also offer meeting facilities.  Please get in touch with our groups department for more information about group bookings and information.
Q: How old do I have to be to be able to fly?
A: Everyone can fly! There is no minimum or maximum age. In cases of doubt please contact our Reception. What is important is that you are in good health.
Q: Can we eat at Indoor Skydive Roosendaal?
A: Yes, you can go to the cosy Swoop Café for a simple sandwich through to a full meal.
Q: Do I have to pay in advance?
A: It is a payment condition of Indoor Skydive Roosendaal that 100% of the booked amount must have been deposited to our account three days before the reserved date. If you are coming within eight days you can pay the amount at the check-in counter (cash, PIN, credit card).
Q: Up to what point can I cancel without charge?
A: Please read our General Terms and Conditions for cancellation terms.
Q: If I am pregnant am I still allowed to fly?
A: No. In the case of pregnancy we would not advise skydiving. We would not like to run any risks with the unborn child. Come and see us after the delivery to experience indoor skydiving.
Q: Is there any maximum weight to be able to fly?
A: It's difficult to say because this involves a weight-to-surface area. We do not have a maximum weight. It depends on your posture. The maximum weight for indoor skydiving in the wind tunnel depends on the surface area over which the weight is distributed. Small and heavy will always fly less well than large and heavy. This rule applies from 120 kg. In case of doubt, please get in touch with us to avoid disappointment.
Q: Can people with a disability fly?
A: In principle everyone can skydive indoors. We have been able to assist plenty of people with a disability. However this does need to be notified in advance in all cases, so that we can take it into account. Discuss it first with our Reception head, Lieke de Vrij. She will look into the possibilities for you in consultation, and where necessary will arrange extra supervision. Finally you do need to bear in mind that there are stairs in the wind tunnel which lead you into the flight room. People with a disability must therefore be able to use these stairs themselves or if necessary with assistance.
Q: May we just come and have a look, even if we don't want to fly?
A: Certainly, even if you don't want to skydive indoors, you are more than welcome at Indoor Skydive Roosendaal. So feel free to bring your granddad, grandma, friends and acquaintances along! They can also enter the tunnel and take their places in our special "viewing ring". Here they have an excellent view of the wind tunnel. After your unique experience everyone can look back on it cosily in our Swoop Café. Or go and visit one of our partners at De Stok recreation part. So it's a complete day out!
Q: If I have consumed alcohol, am I still allowed to fly?
A: No, the house rules of Indoor Skydive Roosendaal stipulate that no-one may fly if alcohol has been consumed. This is because of the delayed reaction times which occur when alcohol has been drunk, so that accidents could happen that we want to avoid.
Q: May I skydive indoors if I am wearing a plaster cast?
A: People with plaster casts unfortunately have to wait until they have healed. The risk is too great of breaking the cast, bumping the walls in the tunnel or the instructor etc. There is also a major risk (for example with a leg in plaster) that the correct flying posture cannot be adopted.
Q: Is there a possibility of refreshing after having flown?
A: Yes, you can shower at Indoor Skydive Roosendaal. There are showers in the changing rooms.
Q: Can children's parties be given at Indoor Skydive Roosendaal?
A: Yes absolutely. Ask our Reception for details of the options.
Q: Can I keep my own clothes on under the Indoor Skydive Roosendaal overall if I fly?
A: Yes, but we would advise that you wear a T-shirt (without a collar) and short or thin pants, so that you have maximum freedom of movement. You may take your own shoes but these do need to be indoor shoes (i.e. which you would only use indoors) with laces.
Q: I have had a shoulder injury, so may I fly?
A: There are almost no restrictions for indoor skydiving. If you have had a shoulder injury then you should reveal this before skydiving indoors – both to our Reception and to your instructor. The instructor will take the final decision on this, and if necessary will escort you from the tunnel a different way. As long as the relevant restriction is notified to us we can take the correct steps. This enables everyone to skydive indoors safely.
Q: Is it cold in the wind tunnel?
A: It's generally very pleasant in the wind tunnel. To experience indoor skydiving comfortably we advise that you wear comfortable clothing under the overall. This might be short pants and a T-shirt (without a collar) in the summer and slightly heavier clothing in the winter – long pants and a jersey/sweater (without a hood or collar). That's because it can be a bit fresher in winter.
Q: Can I keep my jewellery on during indoor skydiving?
A: No, our guests may not have any loose objects at all in the tunnel, because we want to avoid anything flying through the tunnel which could harm the safety of our guests or instructors. You would also run the risk of your things being damaged or lost. So you must store your things in one of the safes we provide free of charge. This also applies to items like false teeth or a prosthesis. You may however keep wearing your glasses, because special protective goggles are put over them.
If you have any specific questions which are not covered above, then please get in touch with Indoor Skydive Roosendaal. Call, or email us.